School of Ecclesiastical Barber Studies
.
An integrated auxiliary of the Daniel Matthew Ecclesiastical College System"
Dean of School of Ecclesiastical Barber Studies,
TBA in FY 22
isos@dmecs.org
Phone: (636) 224-6642
This School is located in a number of location
Office of the Dean of Barber Studies
Daniel Matthew Ecclesiastical College
P.O. Box 12742
Saint Louis, Missouri 63115
FOR OUR SCHOOL BROCHURE CLICK HERE
FOR OUR SCHOOL BROCHURE ON FINANCIAL AID FOR STUDENT BUDGET CLICK HERE

Our Classes are offered within any applicable correctional sitting. For FY21-22 our class starts on November 1, 2022 (Fall), on March4, 2022 (Spring), and on June 6, 2022 (Summer)
Envisioned in 1998 and developed by request ISOS is a real advocate for styles in the art of barbering. Bringing a combined expertise, experience and point of views from more than 70 year of education to each student whom shares his/her passion for this field. No student will depart without retaining their skill position for this industry.. "Donations and sponsorship of students are welcomed".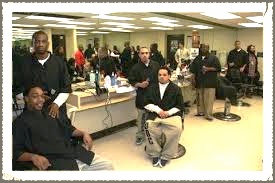 Job Outlook
Demand for barbers is expected to go up, with an expected 50,480 new jobs filled by 2023. This represents an annual increase of 68.44% over the next few years.